Welcome to See Cedar Key!
If you're looking for beautiful photos of Cedar Key Florida, you have come to the right place.
For a collection of my favorite shots check out the Photo Galleries…
For the most current photos with just a bit of commentary, see the Blog…
Looking for something else?  Check the menu or the search function…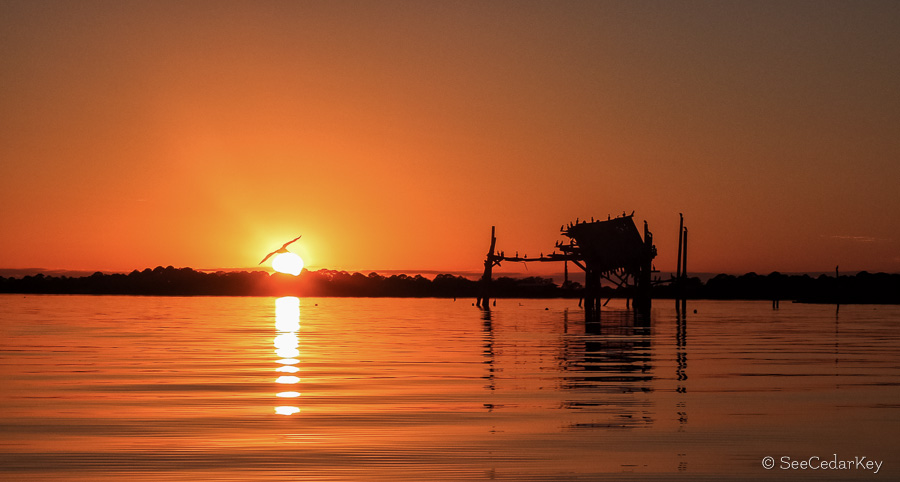 ~ A quick history of SeeCedarKey ~
As an avid amateur photographer, I have been photographing Cedar Key and the surrounding area for many years now.  After accumulating thousands of photographs I decided to start this site.  It is intended to be a photographic exploration of the many interesting aspects of the town. For people not familiar with Cedar Key, it is a small island town in the heart of the Nature Coast region of Florida.  It is also part of the Cedar Keys National Wildlife Refuge. Since starting the site I have been told it captures the essence of Cedar Key. If you visit the town and want to show your friends and family what the island is all about, hopefully this site will do just that.
~ A few tidbits about Cedar Key ~
Once a thriving port city and termination point of the historic Florida Railroad, the picturesque town of Cedar Key is often referred to as a Hidden Gem of Florida.  The small island fishing village is home to 702 residents as of the 2010 census.  With an emphasis on remaining natural and Eco-friendly, Cedar Key is an eclectic place full of small family owned businesses and friendly people.
Away from all the hustle-bustle, most people who visit Cedar Key say that time seems to slow down while they are here. Spend a little time in here and you'll discover that the town has a very rich history.   It is home to two historical museums, the Cedar Key Museum State Park and the Cedar Key Historical Society Museum.  There is also a fair amount of information on the internet about Cedar Key.   Click [here] for information from Wikipedia.
The city has a total area of 2.1 square miles, of which 0.97 square miles is land and 1.2 square miles, or 54.28%, is water.  That translates into a total acreage of about 1344 acres, for both land and water.  By comparison, the Walt Disney World Complex is roughly 25,000 acres, almost 20 times the size of Cedar Key!
~ What to do while in Cedar Key? ~
For such a small town Cedar Key offers visitors a wide variety of activities.   Families will enjoy visiting and playing in the well-kept and well-equipped City Park.   The park includes a really nice full-length basketball court, sand volley ball, play gyms, and numerous covered picnic areas.  Second Street and Dock Street each offer a nice selection of boutique shops and restaurants.   Cedar Key is a very dog friendly with doggie waste bags provided throughout the town.  With it's smooth, freshly paved streets and low traffic it is a great place to ride bikes.  With sidewalks practically everywhere along with several boardwalks it is very enjoyable to take walks and enjoy the sights.   There are numerous boat rental and water tour outfits to choose from.   Private and charter sport fishing is very popular here, as is kayaking and sailboarding.   And of course a favorite thing to do is rent a golf cart and explore the entire island… I hope you enjoy your visit to SeeCedarKey.com.
Steven Deam
Below are a few of the comments I have received…
~
Just wanted to let you know that I spent time on your website yesterday and just loved your shots.  It was especially wonderful knowing where so many had been taken. Thanks for sharing the site with me, I great enjoyed it.
David
~
We were looking for information and photographs of Cedar Key. What amazing colors on your photos. Fabulous! Thanks for sharing.
Donachy
~
Very nice and informative blog! The pictures are stunning to say the least, especially the sunsets and the birds. Looks like Cedar Key is a nature lover's paradise.
Subra
~
Greetings, I discovered your wonderful blog recently and found it very interesting, including some stunning photographs of birds and Cedar Key in general. We visited Cedar Key last month and were enchanted by the place. I penned a short entry on my blog, http://eclegein.wordpress.com which I wanted to share with you. Best Regards, Subra
Subra
~
Hello Steve: We met you earlier this week at Nature's Landing where we are staying for a month and you gave us your website card. Thank you so much for sharing your beautiful photographs with us. We look at them frequently and they give us a much better view of the birds we have seen. Jean & Larry
Jean & Larry
~
How lovely to see the pelicans. I discovered your blog quite by chance and have found it most interesting and informative. We visited Cedar Key for the day about 2 years ago when we were staying in St. Augustine, and found it beautiful and unspoiled. This year we are coming to stay over December and January. We both enjoy looking at birds and wildlife and everything in Florida is so different from our home in England.
Sara
~
What a lovely website you have provided! I have been visiting Cedar Key periodically since October, 1986 and love the place. In fact, we were there on Valentine's Day earlier this week. Anyway, I surely wanted to tell you how much I appreciate your site, your photography, and your hard work in putting it all together. Keep up the good work. All best wishes,
Bob
~
OK, I just have to comment. I stumbled upon your blog a month or so ago and seeing that you have a new post is one of the highlights of my day! My husband and I and another couple vacationed in Cedar Key last April and just fell in love. We are planning on returning later this year for the seafood festival.
You are so talented. Thanks for sharing these photos! We got to see some of the dolphins when we were on a boat tour. So fun! I enjoy your bird photos as well. We were amazed at how many different kinds there are in CK! We never got to see them as up-close as in your photos, so those are a treat. And the photos of CK itself make me a strange kind of homesick…can you be homesick for a place you've only visited once? I think so!
Keep up the amazing work! You have fans in central Kentucky!
Shawnna
~
Just returned home (near Chicago) from our first visit to Cedar Key and am so excited to find your blog with the beautiful photos. Absolutely fell in love with this place from the moment we drove into town. We stayed at Seahorse Landing in the unit shown in the photo and witnessed a few of the beautiful sunsets, ate more than our fill of clams & oysters & saw many dolphins & manatees from the fishing pier. Please keep posting the great photos. Can't wait to come back to Cedar Key! (Maybe someday for forever)
Chery
~
I was most impressed and enjoyed your work. I just purchased a modest place in Cedar Key, and will live there starting this winter. I wondered if you have your work available for purchase? I particularly like a black and white piece from the beach in front of the Island Place Condos.
I am looking for a big print…….40×40 ??
Regards,
Frank
~
Wonderful site! Thanks for sharing your photos.
Anonymous
~
Hi Steve,  Your new look is outstanding. Very mod and clean and sharp. Congratulations!  We were in Cedar Key on Wednesday (1/16). Had a bowl of clam chowder at Tony's. Great stuff.  Keep up the good work.
Bob
~
This is an incredible site, I just went through most of your photo's and I feel like I have just been to Cedar Key. We love Cedar Key and go as often as we can and you have definitely captured its beauty and character. Thank you so much for sharing your collection.
Natalie
• Natalie,  Thank you very much for your kind words. I'm glad you enjoyed your visit.
~
I have enjoyed looking through your site. We visited Cedar Key many years ago. Nice site and very nice pictures! Your pictures brought back my memories of the town.
Jammie
~
Love your photography. Thanks for sharing.
Michelle
~
Steve, you are a pro.
Ron
• Thanks Ron,  It was a pleasure meeting you today and hearing your story of how you discovered Cedar Key.
~
Hey there,  You don't know me at all, but I ran across your site last year around this time when I did a search for great horned owls in the area. I am an amateur photographer in Gainesville, just started about 15 months ago and love to take wildlife/nature photos.  Just wanted to say thanks for all the updates on the blog and how much I enjoy your photos and daily updates. It's nice to see such great work, and always fun to see what's going on in cedar key. I try to make it there every so often, but don't get by as much as I want to see those amazing sunsets and birds.  I was inspired by your blog update today on giving to the homeless, and just thought you would like to know how much others enjoy your work.
Thanks again and keep up the great photography!
Blake
~
Having lived in CK since 1968. and being a professional in the graphics world myself, I can say without reservation, that your photos are the best I have ever seen. Don't know who you are, or your background, but you surely know what you are doing. Congrats!! (BTW – I live in VA now, but still own one of the anchor bldgs on "Main St.") OK OK – 2nd Street.
Esta
•  Esta,  Thank you for your kind words. Especially coming from a graphic professional, I am really flattered. As you well know, Cedar Key is very eclectic and picturesque town. I truly enjoy trying to capture the natural beauty of the area.  I'm very happy that you enjoy my photography.
Best regards,
Steve Deam
~
Thanks for your beautiful photos! It is so nice to see the "warm" sunrise at Cedar Key.  It is snowing here in Minnesota this morning. My sister was visiting there last week. Keep on shooting and posting your photos.
George
• Thanks George… Glad I could bring a little virtual warmth into your Minnesota morning…
~
Incredible, truly amazing and thank you for sharing.
Natalie
~
Steve — Thanks for telling me about your site. I love your photos. You capture the beauty in Cedar Key! I hope we meet again, in Cedar Key.
Michael
~
Steve – We met you and your wife a couple weeks ago when we visited Cedar Key. We are back home now, but I still enjoying checking your web site.  Your photography is great!  You have done a good job of capturing Cedar Key.
Brian
~
Thank You for the photos from Cedar Key! Absolutely amazing pictures!!  I have been vacationing there since 1999. I long for Cedar Key every day…my heart is there. If I'm lucky/fortunate/blessed then I will retire there.
Lori
~
Nice blog very informative
Lisa
~
Steve,  A month ago I made plans to visit Cedar Key with my husband, whom of which we were celebrating 30 yrs of marriage.  We rented Aunts Mays Cottage, which is a beautiful spot on the island. While searching for Cedar Key info, I found your site and submitted a poem.  Along with celebrating the joy of 30 yrs of being married, I needed a quiet place to reflect as I lost my Mother after a long illness on April 1st this year. These past few days have been the most peaceful times I have had in many years. Cedar Key is awesome.
Attached are a couple of photos I snapped as storms approached a couple of different afternoons. Thought you may enjoy it. I have not cropped or straightened so they may be crooked since the wind was blowing quite hard and I did not want to set tripod up during storm.  Thanks for having a website that is a joy to look at. I love good photography (taking it and looking at it) and yours is awesome. I will keep check on your site for more pictures and we will be returning to Cedar Key.
Have a safe and happy weekend.
Gina
•  Gina,  I'm sorry to hear about your mother… but, congratulations on 30 years! I'm glad you were able to find some solace in Cedar Key. Thank you for the interesting photos. With your permission I have entered them into a blog post.
Best regards,
Steve