While taking our dog for its evening walk along "A" street, next to the Cedar Key city park, we were presented with a beautiful reflection on the sea from a full moon.
After taking in the view for a few minutes, my wife knew that I was going to have to run back to the house for the camera!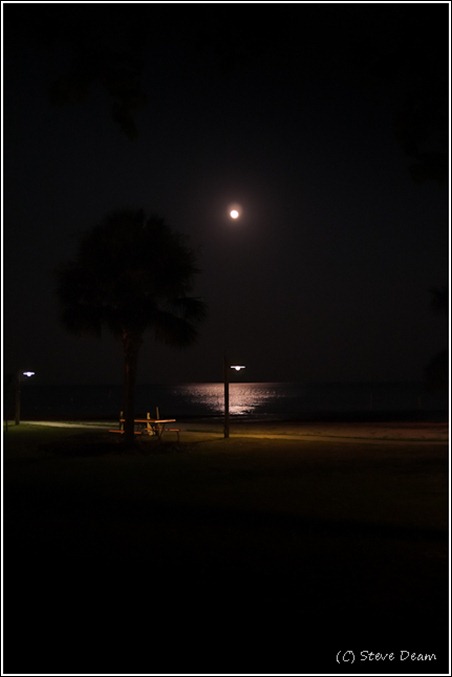 I really like this shot. It captures the serene nature of Cedar Key in the evening.
The different shades of green in the grass is due to light bulbs of different color temperatures in the lamp posts. Even though the bulbs are slightly miss-matched, color-wise, I like the effect it has in this image.
~ ~
Earlier it was a fantastically wonderful day here at Cedar Key!    There was enough breeze to make the warm weather feel very comfortable.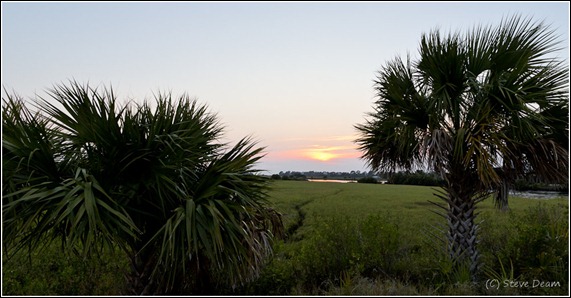 The images above were taken from the Airport Road bridge.   If you click on the bottom one to enlarge it you might notice toward the left side a very common and enjoyable sight…  A Brown Pelican gliding just inches above the water.
~ ~
This moon image at the top of this post was captured at approximately 10:30 pm with my newest camera, a Fuji Finepix X100.
Its classic looking design is a throw-back to the Rangefinder film cameras, but it includes the absolute latest in digital camera technology – including a large and very sensitive imaging sensor. I have been very impressed with the image quality that it produces.
If you enjoy cameras, here is a brief history of Rangefinder cameras. And, here is a more technical description of the cameras.
~ ~
This image, captured from MoonPhase for the Ipad,  shows the moon in the proper perspective for our location.  You can click on it for a larger view.
~ ~
This map shows the approximate camera position for the moon image.  Click the map for a scalable Google map..
~ ~
Also spotted…  a Black-crowned Night Heron with a nice catch…  This bird was hunting under the moonlight along the shore of the Cedar Key beach.  They have bright red eyes, but in this case it's a bad case of "steel eye" (the equivalent of red-eye in humans) caused by my flash.