It was another absolutely beautiful day!  While walking around Cedar Key and considering places to photograph, I decided to get some shots from a pier on a back channel.
You can click on the above image to see a large panoramic of the channel at low tide.  Once loaded into your browser, click on the image again to see the full sized image.  From there you can scroll the image back and forth.
~ ~
This shot shows the channel at low tide.  In the image you can see remnants of the Florida Railroad which was the first railroad to connect the east and west coasts of Florida, running from Fernandina to Cedar Key.
This is an image of the same area but from a different perspective.   At low tide you can see the base of some of the supports.   These support structures would have been placed here around 1860.
At 156 miles in length, it was the longest railroad to be completed in Florida before the start of the American Civil War.
~ ~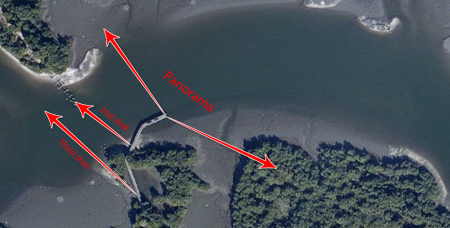 This satellite image shows where each of the above shots were taken from.  Click the image to go to Google maps.