A few days ago my wife and I decided to take a kayak paddle in the back bayou area of Cedar Key.   On this trip we saw lots of interesting things as well as lots of birds, including the impressive White Pelicans.
We put in near the Cedar Key park and took the channel that runs behind the Old Fenimore Mill and Nature's Landing Condos.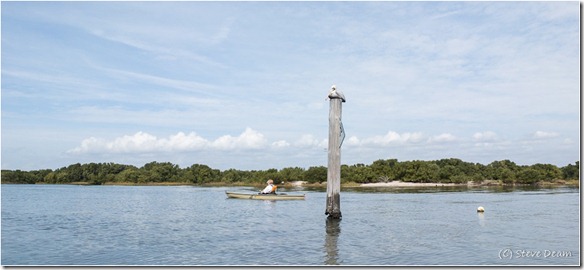 Over the last month, the open gulf has been as smooth as glass on many occasions – making for great kayaking in the open water.
It's nice to know though, that even if the open water is rough, there is a vast amount of protected water in the bayou areas.  The main caution with the bayou area is to really watch the tide.  As we almost found out, it would be very easy to get stranded in shallow areas when the tide goes out.  My wife and I came very close to getting stranded on this trip – mostly because I was unknowingly leading us into a very shallow area as the tide was going out.   My guess is that we came within minutes of getting stuck before we made it back to deeper water.
That aside, we had a wonderful paddle and saw lots of interesting things, including large quantities of shorebirds.   I had a camera with a large telephoto lens with me which allowed me to stay a good distance away from the birds, yet still get close-up shots.   It was an exciting experience to observe the very large White Pelicans from water level in a kayak.
Below are some shots of this trip.   A good way to view these galleries is to click on the first image, then use your L/R arrow keys to navigate through them.  Or, if you prefer you can click to open a photo and click to close it…
[Not a valid template]
The Cedar Key area offers a virtually unlimited variety of water to paddle for novice and experienced 'yakers alike!
If you need to rent kayaks, Tom of Kayak Cedar Key will set you up!