On a 24 ft. billboard for Nature's Landing Condominiums….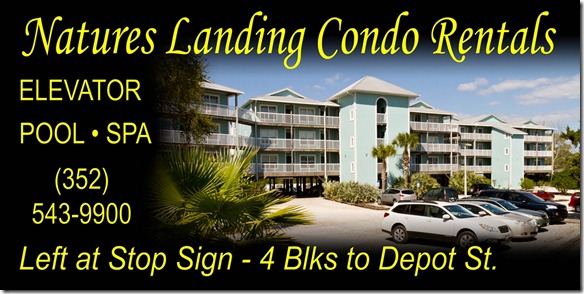 The billboard is along highway 24 leading into Cedar Key.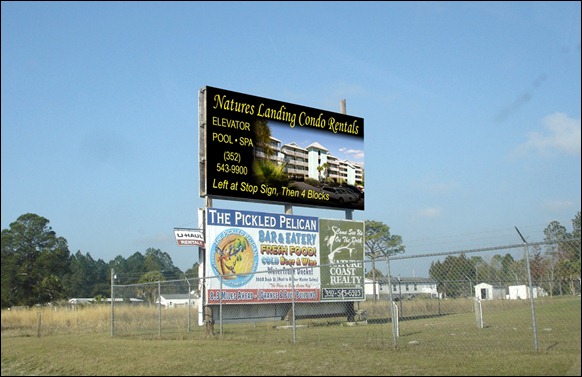 ~ ~
Last fall I was asked for a particular image to be used as a double page spread in a major RV magazine.   I haven't located an on-line reference for that magazine yet, but hope to.
~ ~
Recently several images were featured in an article on Summer Getaways in Lifestyles Magazine.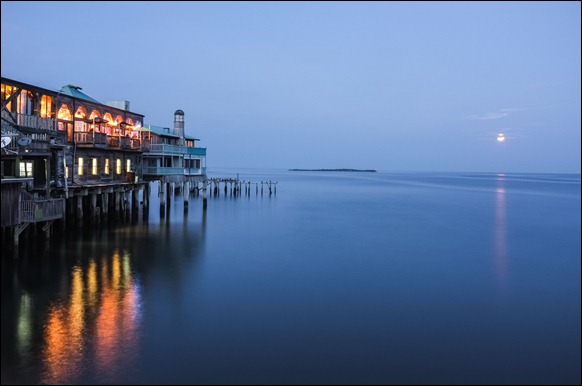 An excerpt of the article is here: Lifestyles Magazine Summer Getaways – Cedar Key.
The online version of the printed magazine can be found [here].   Cedar Key is featured on page 47.
~ ~
In addition to these, several images from SeeCedarKey grace the walls of homes and offices in Cedar Key.  If you happen to see an image on the site that you would like to have on your wall, feel free to email me at:  cedarkey@live.com to inquire.  All that I charge is a very modest amount to cover my time in preparing the images for printing.
I truly enjoy the challenge of trying to capture interesting aspects of the area and then sharing them with people.   When people tell me they have enjoyed this site or any of my images – that's my reward for doing this.
Like any town in America, Cedar Key has it's issues and its struggles.  But what it has most is the American Spirit of pushing on no matter what comes its way.   And come its way, it has!  All you have to do is a little research on this little town to realize that the saying "Come Hell or High Water" could have originated here! 
What was once the second larget city in Florida is now a quaint little villiage with an atmosphere that takes you back in time…   In todays crazy-busy world, that's a really good thing.  And, it's great for the blood pressure!
~ ~