Category Archives:
Bird Images
As we were finishing our morning walk, we noticed two Great Egrets and a Wood Stork sitting in the mangroves just off Third Street in Cedar Key.    Not having my camera with me meant a sprint to our place to grab it.
After grabbing the camera my wife ran me back on the golf cart.  Since the birds weren't spooked by cars and people going by within about 20 feet of them, the golf cart made a pretty good blind to sit and shoot them from..
I was fortunate that we were able to position ourselves for perfect lighting on the birds.   While my wife talked to some very friendly people from Ohio who happened to be walking by, I shot away…
I was a little surprised to see some iridescent color in the black portion of its wings…
As we observed them it seemed like a case of the ugly duckling…  I think the stork thought they were siblings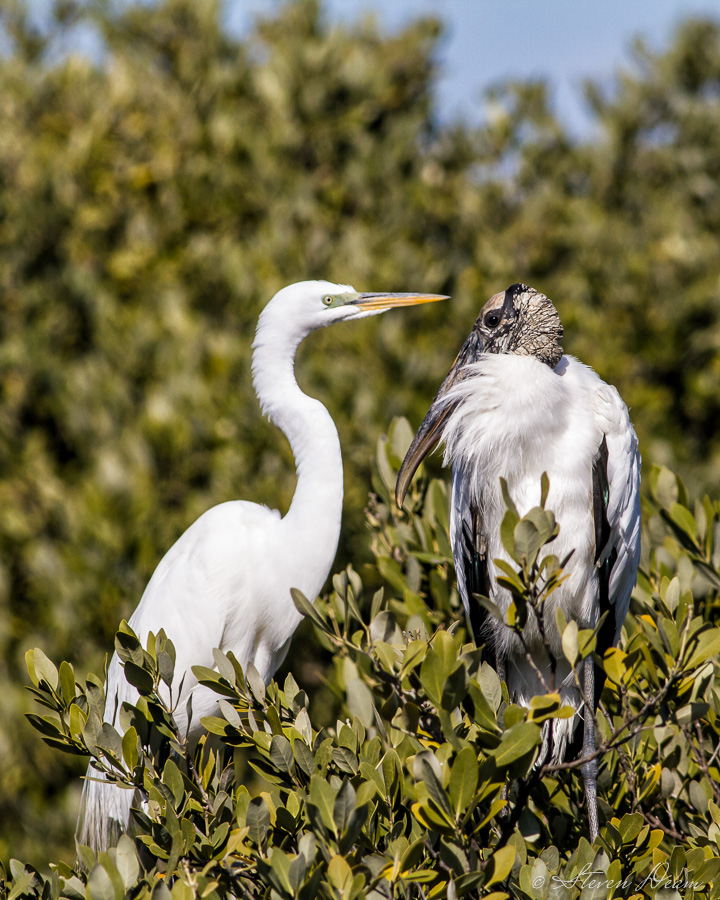 When the stork took off, this is as much of the bird that would fit into the frame…
In the following shot I didn't quite capture the entire bird,  If you look closely, you'll notice its head tucked underneath its body.
An awesome experience observing and capturing these birds up close in Cedar Key!   They didn't appear to be the least bit disturbed by people and cars going by.
A Wood Stork tidbit…
The Wood Stork is the only stork breeding in the United States. Its late winter breeding season is timed to the Florida dry season when its fish prey become concentrated in shrinking pools.